History
F&M Bank contacted a few men of the West Point community who share a common interest in honoring our veterans, offering to donate a plot of land for the construction of a veterans memorial. After realizing the magnitude of this project, this group of men consulted with a few others, and it wasn't long before an official planning committee was organized. The committee convened for the first time on May 16, 2016, rolled up their sleeves, and jumped right in, planning and researching. This committee quickly grew to 13 members, including residents from each Cuming County community. Over the next few months, hours and hours of planning occurred, decisions were made, goals were established, papers signed, proposals solicited, applications submitted, accounts established, designs drawn, designs re-drawn, contacts made, deadlines established, and through these efforts, the American Veterans Park was born. Without the generosity and motivation of the original few, and the outpouring of support from the community, this corner next to the bank would still be just an vacant plot of land.
Mission
To Honor God, Country, Veterans and their Families
Objectives
To construct a memorial recognizing the service and sacrifice of all U.S. servicemen and women, from all branches of the military, who served our great nation both during times of peace and times of war.
To glorify God, honor a great nation built on faith and trust, and recognize military families as our hidden heroes.
To bring honor and beauty to Cuming County, imposing little to no expense or maintenance demands on future generations.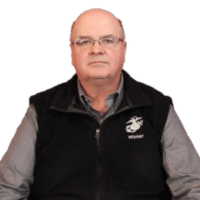 Rick Wimer
Chairman
Rick was born in Sioux City Iowa, but considers himself a Nebraskan as he has lived most of his life in Nebraska. He served three years active Marines and ten years in the Marine Reserve. Rick and his wife, Jayne, have been married for 34 years and have 5 children. Two of his sons and one of his daughters have served in the Marine Corps.
Vaughn Beed
Committee Member
Vaughn moved to West Point in 1971 and graduated from West Point High School in 1975.
He's been working in the community ever since graduation and is currently a member of the American Legion riders Post 159 Beemer. He works every day as the owner of BEED TRANSPORTATION!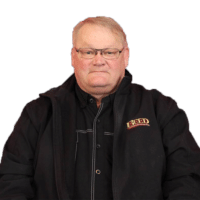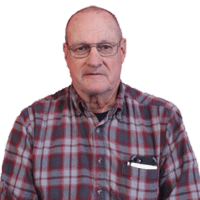 Rich Brahmer
Committee Member
Richard L. Brahmer was born in West Point but later moved to a farm in Wisner. He graduated from Wisner High School in 1964 and then attended college at the University of Nebraska until graduating in 1968.
He served in the US Air Force from 1968 – 1974, serving part of that time in southeast Asia. After the military, he worked for the local cooperative system until the year 2000 when he started his own truck line business which he still operates today.
Rich served on the Wisner-Pilger School Board for 12 years and the Wisner City Council for 6 years prior to serving on the American Veterans Park committee.
Steve Brune
Committee Member
Steve was born and raised on a family farm near Dodge. After High School, he went to College in Kearney and joined the United States Army Reserve. Upon finishing college, he became a banker, specializing in commercial and agricultural lending, which he still enjoys doing yet today, some 30 years later. His banking career has landed him jobs in several locations around the state like: Holdrege, Grand Island, Clearwater and now West Point. His Army Reserve career was a 10 year tour, with one of those years being activated for the Persian Gulf War in Saudi Arabia and Kuwait. That year of active duty gave him the opportunity to experience boots on the ground in the deserts of Saudi Arabia and Kuwait.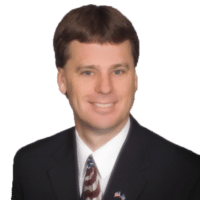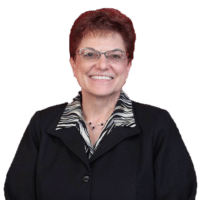 Adeline Hanel
Committee Member
Adeline was born and raised on a farm by Howells, Nebraska, and graduated from Howells High School. After working at the Clarkson Bank for ten years, she moved to West Point in 1979 and has been employed at F&M Bank (aka Farmers & Merchants National Bank) for 37 years.
An active member in the community, Adeline currently serves as the secretary on the American Veterans Park Committee, President of District 3 American Legion Auxiliary, Vice President and 24-year member of the American Legion Auxiliary, Unit 70; member and usher at St. Mary's church and secretary, treasurer of Cuming County Crimestoppers. Adeline's husband, Ken, served in Germany during the Vietnam Era, and her father served in Germany during World War II.
Lisa Hunke
Committee Member
Lisa was born and raised in Little Rock, Arkansas. She met husband, Bernie, when he was stationed at Little Rock Air Force Base. They married in 1990 and spent time living in Japan, North Carolina, Arkansas and Germany with their four daughters before moving back to West Point in December, 2006.
In addition to being a military spouse for 22 years before her husband retired, Lisa comes from a family devoted to military service. Her father and uncle served in the Air Force, and her grandfather, father-in-law and two nephews served in the Army.
Lisa is the Technology Coordinator and assistant Veterans Service Officer for Cuming County. On the American Veterans Park Committee, Lisa serves as media coordinator and design team member.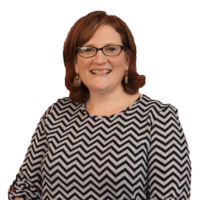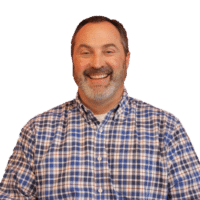 Jason Minnick
Committee Member
Jason is proud to serve on the committee for the American Veterans Park to be located in West Point. The grandson of a marine and a navy midshipman, he was excited to help with the project in honoring the veterans from Cuming County.
Jason and his wife Becky own the Minnick Funeral Homes in West Point, Wisner, Beemer and Dodge. They have been married for 25 years and have four children-Delayna, Ashley, Jared and Ava. They are proud to have called the communities of Wisner and West Point home for the last 24 years.
Harold Schmader
Committee Member
Harold was born and raised in West Point, Nebraska. He was drafted in the Army in 1953. He served two years at Ladd Air Force Base in Fairbanks, Alaska. After Harold's return, he worked for the Cuming County Public Power District. Harold started up in business in 1967, owning Schmader Electric. Schmader Electric continues to operate today as his son Dale is the present owner.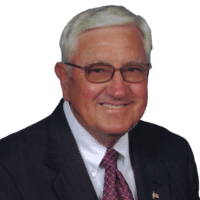 Former Planning Committee Members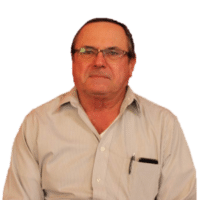 Kenneth Hanel
Co-Chairman
Ken Hanel is a 3-Year Veteran of Service in the United States Army, serving 27 months with Pershing Nuclear in Northern Germany, during the Cold War Era.
Currently retired, Ken is an active member of the community. He has been a member of the American Legion for 39 years and the Selective Service System (Region 4) for 15 years.
Dave Steffensmeier
Committee Member
Dave Steffensmeier was born in West Point, Nebraska on October 15, 1947. He is married to his wife Susan E. Steffensmeier and they have four children: Carol, Ryan, Trisha and Megan; They also have two sons-in- law, one daughter-in- law, and nine grandchildren.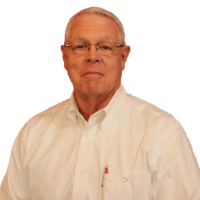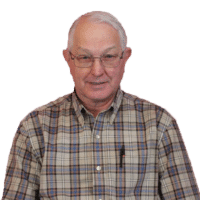 Kenneth Schoch
Committee Member
Kenneth was born on a farm west of Bancroft and has lived there his entire life. After graduating from Pender High School, he farmed for two years before joining the Army. He attended Engineering School at Fort Belvoir, Virginia, and was an instructor there for over two years. After completing his military service, he returned to Bancroft to farm where he later retired. Kenneth was married to Kathryn Ott Hoefs (Kathy) and they celebrated their 25th Anniversary on December 29, 2016. He enjoyed flower gardening, traveling and helping neighbors harvest.
Bernie Hunke
Co-Chairman
Bernie was born and raised in West Point, Nebraska. He joined the Air Force in 1986 and retired in 2008, serving as a C-130 Loadmaster for 22 years.
Bernie was assigned to Offut Air Force Base in 2006 which allowed him to return to his home state of Nebraska. Since his return, he served in West Point as commander of the VFW Post 4912 and was appointed co-chair of the America Veterans Park committee. He was also a member of the American Legion, West Point Volunteer Fire Department, and St. Mary parish. When the VA Vets to Vets program was initiated in West Point in 2012, Bernie was invited to serve as the military representative assisting veterans receiving hospice care. Bernie served Cuming County veterans as the county Veterans Service Officer until he passed away in 2019.